Schedule
The contest will start on 2020-04-14T12:00:00Z and will run for 5 hours.
Click here to learn more about this contest.
Will the contest be rated?
Yes, this is a rated contest.
sir, how can I compete in the contest?
Atcoder beginner contest162 is scheduled to be held April 12 at 6 pm which will coincide with this contest for 1 hr and 40 minutes

This contest also collides with CF Div1+Div2 Contest.
The timing of this contest has been changed.
How will I sign up for the contest???
You don't need to sign up!
Just click on the "Sign Up" button and when the contest will starts you will able to enter the arena by clicking on "Enter Arena" button.
when will the ratings get updated?
Problem H. Hide and Seek…
Now it is showing different problem than contest time…

The ratings have been updated.
Apparently there was already a problem in the archive by the same name (and hence the same slug/URL). The slug for this new problem has been updated. You should see the right problem now.
I faced my most bad experience on Toph during yesterday's contest. Toph seriously needs some improvements. Because it's now contains a lot of international contestants. Each Open-for-All contests gathers 400 or 500 contestants and lot of submissions at a time. That's why everyone was getting queued yesterday. Now I will talk about some other issues.
I couldn't use the Compile, Test and Custom Test feature during yesterday's contest. Toph was showing this error.


That's why I submitted the solutions directly then (without compiling, testing).
And now I see my rating became 1625.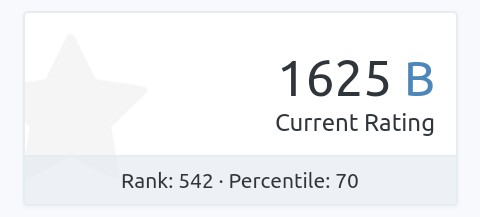 But Rating History is showing 1624.


When the editorial will be published?
Thanks for reporting the rounding issue with rating. Apparently your current rating is 1624.9429397203194. And, the chart was using the floor function instead of the round function.