Schedule
The contest will start on 2019-10-26T08:00:00Z and will run for 5 hours.
Click here to learn more about this contest.
স্যার কন্টেস্ট এর সময়টা কি দুপুরে দেয়া সম্ভব হবে? সন্ধ্যায় হলে অনেকেরই সমস্যা হবে। প্লিজ সময়টা দুপুরে দেয়ার চেষ্টা করবেন।
দুপুরে বেশির ভাগ স্কুল/কলেজে ক্লাস থাকে তাই যদি দুপুরে দেয় তাহলে অনেক বেশি সমস্যা হবে।
Sir,May I request to kindly upload all the questions in bangla.
@Shimanto
The problem statements of ISCPC are usually available in both English and Bangla.
Last year we saw it in the preliminary and in the finals.
I hope this year will be the same.
As well as previous year, the problem statements will be available in both English and Bengali.
Can I use other language like (java, javaScript) for solve the problems of preliminary test of 30
september ? please answer
The best time will be the afternoon to start the preliminary contest.
As far as I know, we can use python in both the preliminary and the finals. Am I right?
Sir please question gulo ektu bangla te o deoar chesta korben
@Abdullah_1234 @Wasif_719 From what the organizers have said so far, the languages that will be allowed are C, C++ and Python.
যে সকল শিক্ষার্থী রেজিস্ট্রেশন করেছে তাদের কি "অনলাইন বাছাই প্রতিযোগীতা" তে নতুন Toph.co এর আই,ডি দেওয়া হবে?
Yes, you will be given temporary accounts for the preliminary contest.
For preliminary Contest, will there be different question sets for school level and college level participants? How can the school level contestants compete with the college level contestants?
No. There will be a combined preliminary. But School and College category will be treated seperately to proceed in onsite. And only in onsite there will be seperate problem set for school and college category. Thanks.
Python এর জন্য কি টাইম লিমিট বেশি দেওয়া থাকবে?
একী প্রশ্ন। যেহেতু সি, সি++ এর পাশাপাশি পাইথন এলাও করা হছে, তাই পাইথনের জন্য টাইম লিমিট বেশী দেয়া উচিত। কারণ একী লজিকে লেখা পাইথন কোড সচরাচরই সি ও সি++ এর চাইতে এক্সিকিউট হতে বেশী সময় নেয়।
এক্ষেত্রে টাইম লিমিট বাড়ানো না হলে পাইথন এলাও করার যৌক্তিকতা থাকে না।
তাই এ ব্যাপারে আয়োজকদের দৃষ্টি আকর্ষণ করছি।
October 2 stated by DimikOj, October 10 here. Which is the correct time?
I am also confused about the correct date of Nationals.
And the National Round Should be onsite not online, isn't it?
@hjr265 @TarifEzaz @oasis.cse @backbencher16 @whoisshihab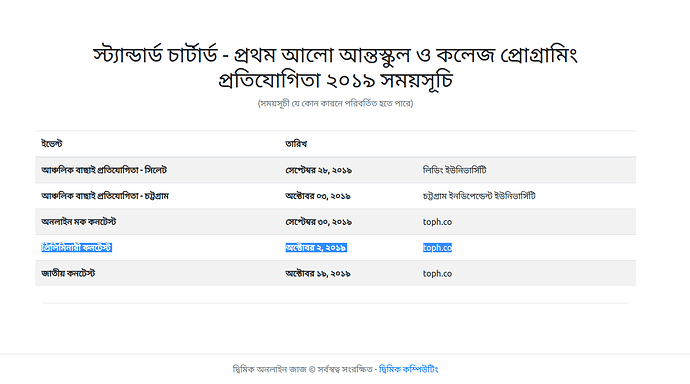 Source: https://dimikoj.com/iscpc/2019/schedule
Time of taking the screenshot: Thursday, September 26, 2019 9:21 AM (~ 2 miniuts).